I have doubts about south africa designing alternate versions of existing weapons and directors.
There is quite a bit of history in my AU as to why South Africa has the Sea Dart. The main reason is in 1963 they signed up with the UK to help fund the development of the weapon. In the real world the South Africans tried to buy British SAMs a few years later and were rebuffed by the British Labour Government. So they funded 70-80% of the development of the French Crotale missile (Project Cactus). In the AU even the British Labour Government of 1964-1970 doesn't place a complete ban on South African military cooperation. So the South Africans get the Bloodhound Mk 2 and acquire a local infrastructure to build Sea Darts for their ships and ground based air defence. A better deal than paying all of the costs of a development program and ending up with a handful of Crotale systems.
also, I doubt the amount of directors for the arnament.
The only directors drawn so far are the two Type 909 illuminators for the Sea Dart. There will also be two much smaller gunfire controllers on each beam for the 5" and 3" guns.
I also have no idea why you made the radars and the funnel so high,
The funnel is the exact height of similar funnels for twin Tyne, twin Olympus CODOG machinery on the Type 42, Type 22 and DDL ships. The SPS-01 Broomhead radar is the same exact height it is on the Dutch Tromp class ship. The Type 909s are as high as the required space for their rooms under the antenna are when placed on top of the bridge and hangar respectively. This height also gives them excellent fields of regard.
and even on this position your 5'' magazine won't fit: the ship is very narrow over there, even if you have an really full hull shape (and you don't want that on these ships). and of course I join in with timothy: that missile launcher isn't gonna work, or at least not like you imagine.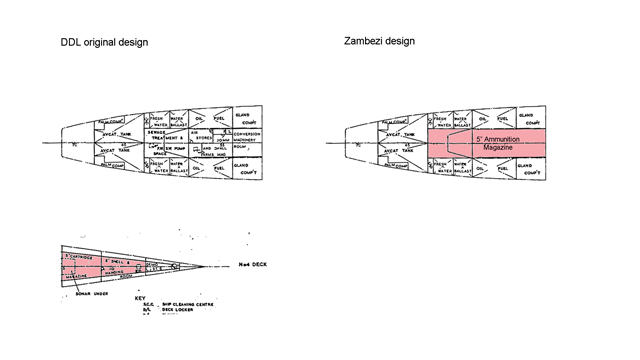 The bow is a lot finer than the stern and on bow gun mounted ships this is where the ammo is stored down on the bottom deck. On the DDL design the bow 5" gun has 200 cubic meters of volume for ammunition storage. On the Zambezi class the aft twin 5" gun has 500 cubic meters of volume for ammunition. If the DDL can store 400-600 rounds in this space then the Zambezi can store 1,000-1,500 rounds.
I'm not just imagining this ship I'm doing a detailed design of it.