Time for another aircraft design except unlike the previous one, this ones real, if only in model form. Since my PAK-FA proposal caused such a stir and since it really does't make much sense, I decided to go with something based in reality, the KF-201A, the product of the KFX-201 design.

Unfortunately, I couldn't scrounge up anything better than a few small photos of the proposed design, so I had to wing it on some parts of it.
And here's an image of the actual design: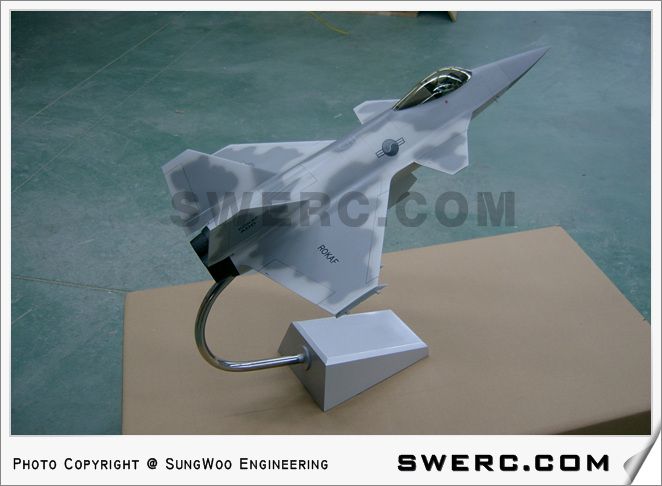 KF-201A (Formerly KF-X Design 201)
Specifications
Crew: 1
Powerplant: 2x Snecma M88KF Turbofans with 3D Thrust Vectoring
Maximum Speed: Mach 2.6 (with full internal combat load)
Maximum Supercruise Speed: Mach 1.7 (with full internal combat load)
Maximum Range: 2000+ nautical miles
Maximum Range with Conformal Tanks: 3000+ nautical miles
Service Ceiling: 65,000ft
Maximum G Loading: +8/-12
Sensors: 1x Samsung/Mitsubishi Advanced AESA Radar
1x Distributed Aperture System
1x Electro Optical Targeting System
Defensive Systems: 1x Internal Towed Radar Decoy
1x Samsung Black Eye ECM System
1x Advanced Countermeasures System
Armament: 2x Internal 27mm BK-27 Linkless Feed Cannons
1x Main Weapons Bay capable of holding 4x AAM's
2x Secondary Weapons Bays capable of holding 1x AAM each
4x Optional Wing Pylons
2x Optional Wingtip Pylons
_________________
Everyone is a genius. But if you judge a fish on its ability to climb a tree, it will live its whole life believing that it is stupid. - Albert Einstein
The only stupid questions are the ones that go unasked.
Korean AU