Hello everybody!
I'd like to present an AU I've been working on for a while. It's still very much in the planning stage, however I do have basic military numbers and organizations, and a detailed map. The history is still in shambles, but I do have a few important notes that I can post.
Several things before I start.
-First, this AU is probably not going to be historical, but rather a snapshot of a particular time period, from ~2004 to ~2015. There will be a very basic history that just gives a vague idea of the roots.
-Second, I have done my best to keep this AU from being biggest and baddest (like the Federal Republic of Denton). I've made the military a primarily self defense force and I'm trying to keep things fairly humble (well, aside from the King being somewhat extravagant).
So, I present to you my Kingdom!
Kingdom of Salide Map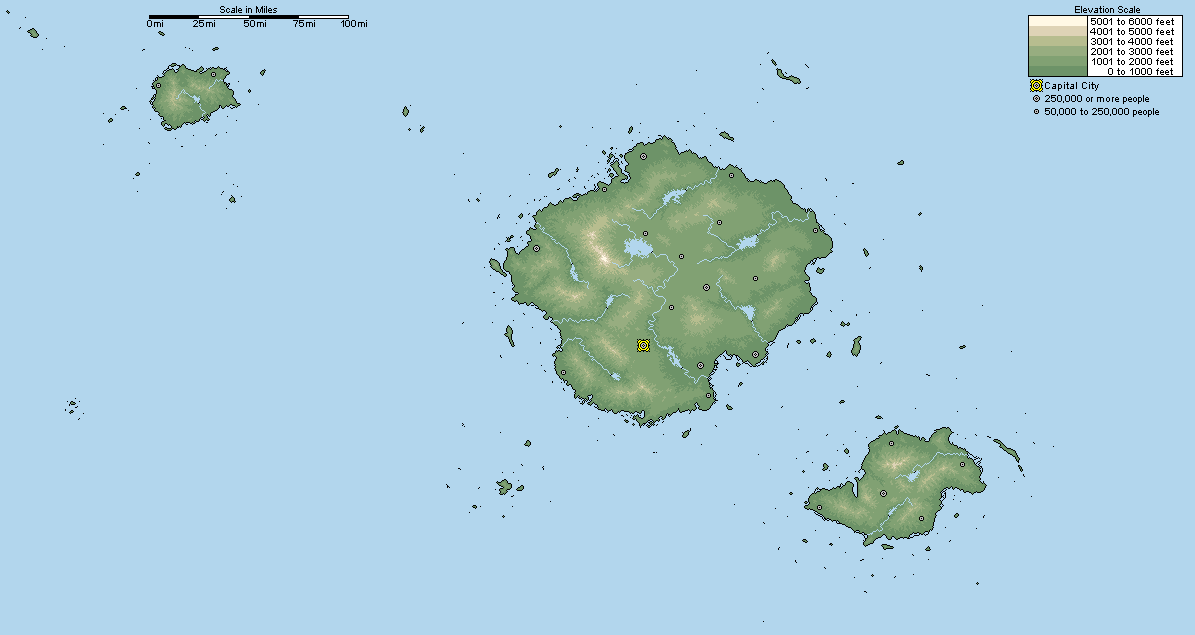 Geographically, Salide is located about 200 miles off the coast of Ireland.
The Flag of Salide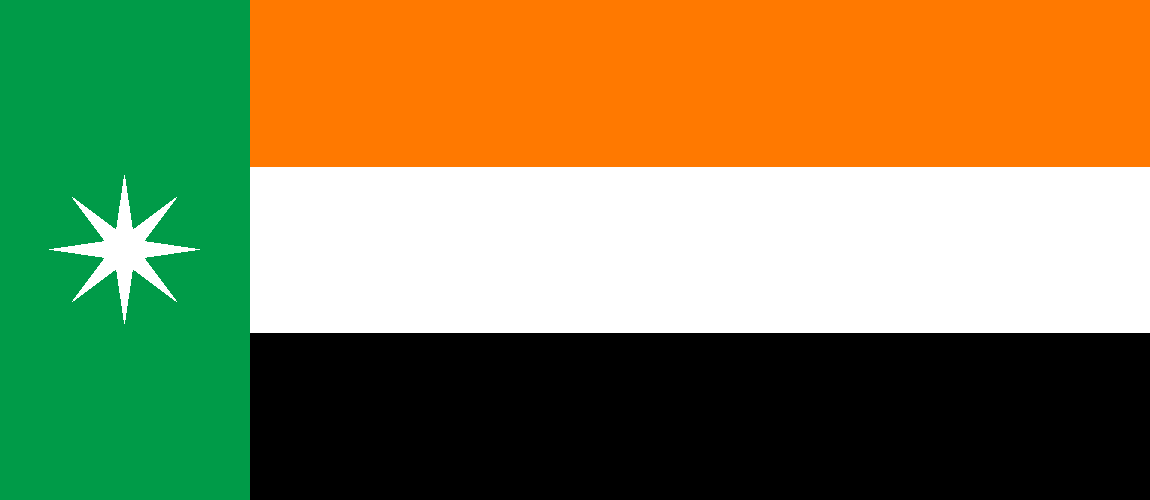 The Hoist's location on the left of the flag touches all colors of the tricolor, symbolizing unity of the three elements. The top band of the tricolor is symbolic of the land, providing for and protecting the people. The bottom band of the tricolor represents the foundation, the monarchy, the government that provides for the people. The center band has two meanings, peace and neutrality of the government and the people, as well as the peace between the government and the land it controls. The 8 point star signifies the unification of the 8 kingdoms in 842, as well as the unity of the other kingdoms and subsequently all the people.
The Tricolor also represents the 3 major islands, the Northwest island, the grand island, and the southeastern island, all touching the hoist and representing unity under one star.
Color Symbolism:
Green symbolizes the forests of the island and hope.
Orange symbolizes the land and creativity of the people.
White symbolizes peace and neutrality.
Black symbolizes the Government and the Monarchy.
Standards of the flag:
Flag Ratio: 10:23 (it is one of two flags that has a width more than twice it's height, the other being that of Qatar)
Hoist: 5/23rds the length of the flag
Tricolor: 18/23rds the length of the flag, space vertically in thirds.
Color: RGB (Hex)
Green: 000-154-073 (#009A49) - Hoist
Orange: 255-121-000 (#FF7900) - Top Tricolor
White: 255–255–255 (#FFFFFF) - Center Tricolor
Black: 000-000-000 (#000000) - Bottom Tricolor
Country Name:
Salide (pro. sa-leed)
Official Country Name:
The Kingdom of Salide
Population:
8,316,400
Land Area:
23,300 sq-mi
Official Language:
English
Recognized Languages:
Salidan Sign Language
German
Irish Gaelic
French
Demonym:
Salidan (sa-leed-an)
Currency:
Sterling Pound, £ (1.00 Sterling Pound : 1.60 US Dollar)
GDP (nominal):
$395,527,984,000
GDP (nominal) per capita:
$47,560
Demographics:
Salidan - 84%
English - 4%
German - 3%
Irish - 2%
French - 2%
Spanish - 1%
Other - 4%
Religion:
Christian - 83%
Jewish - 5%
Hindu - 2%
Other - 4%
No Affiliation - 6%
State Religion:
Christiantity (United Church of Salide)
Just a note before reading, forgive me if some of the paragraphs are not very well written. Making the history is easy, presenting it is hard
.
Mesolithic 8000BCE - 4500BCE
Neolithic 4500BCE - 3800BCE
Copper Age 2500BCE - 2000BCE
Bronze Age 2000BCE - 500BCE
Iron Age 500BCE - 400CE
Prehistoric Salide
There is no record of any humans in Salide before Mesolithic people started to arrive by boat between 8000BCE and 7000BCE. From about 4500BCE, Neolithic Settlers arrived, introducing cereal cultivars, a housing culture, and stone monuments.
The Bronze Age brought about new technology, the most innovative being the use of metal, along with the wheel, harnessing oxen, textile weaving, and skillful metalworking (which produced new weapons and tools along with fine gold decorations). Salide in the late Bronze Age was part of a networked culture called the Atlantic Bronze age that included Ireland, Britain, France, and Iberia. This network introduced Celtic languages to the islands.
During the Iron Age, a Celtic language and culture emerged in Salide. There were 3 major migrations of Celtic peoples from Europe. The Priteni were the first, followed by the Belgae from northern Gaul and Britain. The Veneti (of the Brittany Peninsula) migrated by ship to the coast of Ireland and then to the Southern Island of Salide, around the same time as the Pritenis and the Belgae.
In the early 3rd Century a large group of Visigoths of northern Iberia migrated north and landed on the Southern Island, as well as a group of Saxons who landed on the eastern Grand Island in the latter half of the 3rd Century.
Christianity was introduced in the late 6th Century, with the arrival of Saint Peter (of Salide) in 564. Complete conversion of the islands was completed around the 9th Century.
Early Medieval Period, Viking raids, and the rise of the Saellaod Kingdom
The first viking raids were recorded in 803, when Vikings from Norway attempted to loot the island. This would mark the beginning of 2 centuries of intermittent warfare. By the late 850s, the Vikings founded several settlements on the Eastern coast of the Grand Island. The Vikings never achieved significant control of Salide, and were pushed out in the late 11th Century. However, the Viking settlements continued to flourish and trade had a significant impact on Salide's economy.
Salide was a patchwork of numerous rival clans (kingdoms) but beginning in the middle 9th Century, in 842, with the accession of Eoghan Mac Gabhann to king, the 8 major clans of southern Salide merged into one, creating a large Kingdom. The new Kingdom was named after the Saellaod Clan, the primary driver behind unification. This prompted other clans of the Islands to merge into larger kingships. By the end of the 9th Century, there were 4 major and 7 minor Kingdoms around Salide.
Clans of Southern Salide Before 842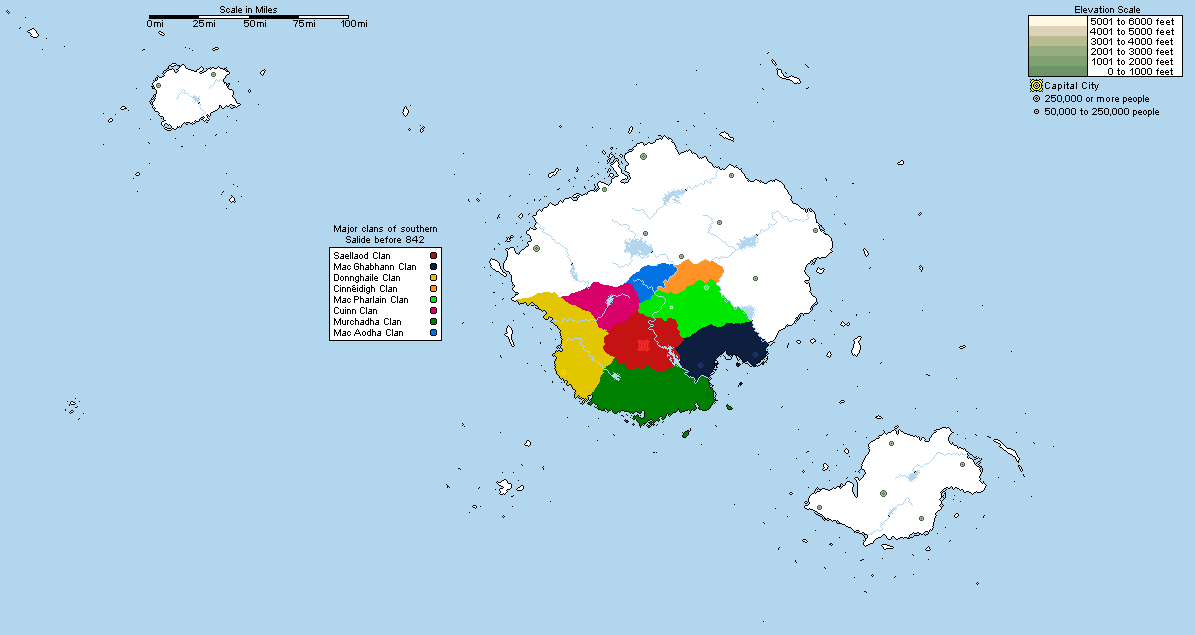 Kingdom of Saellaod after unification in 842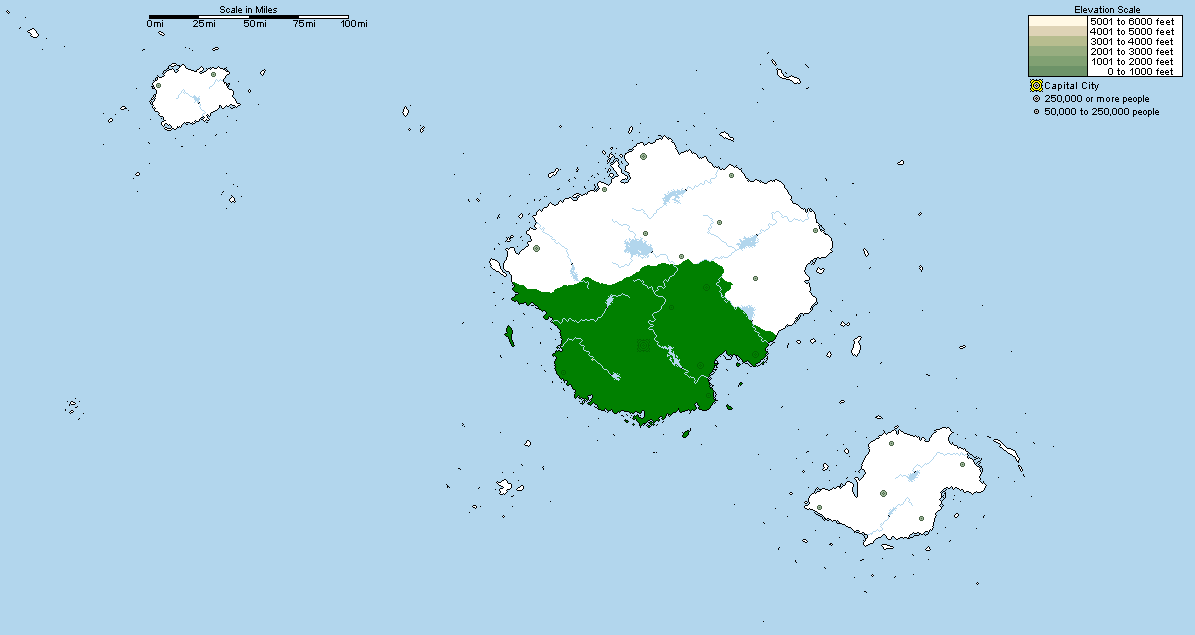 Additional Notes:
-Saellaod is a Gaelic surname (which I made up for this AU). Following
basic Irish Gaelic pronunciation
, you will find that it will translate into say-leed. After the English language takes over in the late 1600s, the name is Anglicized into it's current form, Salide, pronounced sah-leed. Also, the name Salise, of the current reigning House, is taken from Saellaois, a variant of Saellaod.
-The group of Visigoths that migrate to Salide's South Eastern Island are then after called Hansigoths, literally meaning 'group/band of Goths.'
Preview of later history:
-After the rise of Feudalism in the early 10th Century, there is a lot of infighting. After the death of a King in the late 12th Century, his Kingdom is split into 4 and a civil war begins between his sons. Other than that, there are no major events (aside from the European Famine of 1315-17 and the bubonic plague in 1349).
-Near the end of Feudalism, a Treaty of Union will be drafted to merge all of the Kingdoms of the Salidan Islands into one. However, unlike the case with the United Kingdom, all Kingdoms will become a part of the Salidan Kingdom and will not be considered as 'countries.'
-In the later 1600s, a large colonial empire arises, spanning the entire globe, including the Denton Islands. While not near as large as the Portuguese or the British Empire, probably comparable to the Dutch Empire. The Empire's subsequent fall would occur around the early 1800s, with the loss of 3/4 of it's empire to revolution, infighting, or other external forces. This would also be a motivator behind the revolution in Denton. As Salide's Empire crumbles, it exerts tighter control on the territories it still controls, especially Denton, because of it's abundant resources. Eventually, the colonists are suffocated and revolt in the 1850s. Salide is likely also facing opposition from the other colonial empires and cannot respond to the revolution fully and will end up losing Denton.
-Salide will participate fully in WWI, for reasons unknown yet. However, in WWII, the government will adopt a policy of Neutrality (while leaning towards the Allies) and will not join the war until 1943.
-Revolution against the monarchy in 1917, with a communist government taking over. Queen Amelia II travels to England. Her son Edward will restore the monarchy after the Communist govt loses control and fails.
Salide will adopt a policy of Neutrality through most of the 20th Century and as a consequence will not be a part of NATO.
Modern Salide:
Basically, the country has been under a monarchy since the Middle ages (ca. 600-800 CE). There was a revolution in 1917 that ousted the royal family until after WWII, when Edward traveled back to the country and helped to overthrow the communist govt and with the people's help he was established as the returning king.
Previous Monarchs
- King Edward (House of Salise), 1951-2013
- Queen Amelia II (House of Salise), 1909-1917 (Ousted during Salidan Revolution of 1917)
- Queen Isabella VI (House of Salise), 1887-1909
- King James III (House of Salise), 1826-1887
Military Size
Army: 25,500
Navy: 13,500
Air Force: 15,000
Total Active: 54,000
Royal Salidan Ground Forces
Active Personnel: 25,500
Royal Salidan Naval Service
Active Personnel: 13,500
12 Frigates
1 Landing Ship (Dock)
3 Landing Ship (Utility)
2 Large Hover Craft
4 Diesel-Electric Submarines
3 Mine Countermeasures
6 Mine Hunters
3 Mine Sweepers
8 Fast Attack Craft
12 Patrol Boat
2 Replemishment Oilers
2 Oceanographic Research
58 Ships
NavBase 1 - Grand Is.
-Submarine Squadron - 4 SSK
-Frigate Squadron - 6 FF, 1 AOR
-Strike Craft Squadron - 8 FAC
-Patrol Boat Detachment - 3 PB
-Survey Ship Group - 2 AGS
NavBase 2 - Grand Is.
-Frigate Squadron - 6 FF, 1 AOR
-Amphibious Squadron - 1 LSD, 3 LSU, 2 ACV
-Mine Warfare Squadron - 12 MW
-Patrol Boat Detachment - 3 PB
NavBase 3 - SE Is.
-Patrol Boat Detachment - 3 PB
+1-2 FF on rotation
NavBase 4 - NW Is.
-Patrol Boat Detachment - 3 PB
+1-2 FF on rotation
Royal Salidan Air Force
Active Personnel: 15,000
72 Combat (5 x 12 + OCU x 12)
4 AEW (1 x 4, same squadron as ELINT)
2 ELINT (1 x 2, same squadron as AEW)
12 Light Transport (1 x 12)
12 Medium Transport (1 x 12)
6 Heavy Transport (1 x 6)
4 Tanker (1 x 4)
8 VIP (1 x 8)
64 Training (2 x 16 turboprop, 2 x 12 jet, 1 x 8 multi-engine)
16 Light Helicopter (1 x 12 SAR, 1 x 4 VIP)
12 Maritime Patrol/ASW (2 x 6 - one squadron is OCU)
16 ASW Helicopter (1 x 16 - 4 are OCU)
48 Utility Helicopter (3 x 16)
12 Attack Helicopter (1 x 12)
24 Training Helicopter (2 x 12)
312 Aircraft
AirBase1 - Grand Is. (Defense Flight Training School)
-Primary Training Wing - 32 Turbo Trainer
-Advanced Training Wing - 24 Jet Trainer
-Multi-Engine Training Wing - 8 ME Trainer
-Helicopter Training Wing - 24 Heli Trainer
AirBase 2 - Grand Is. (Air Combat Group)
-Fighter Squadron - 12 Combat
-Fighter Squadron - 12 Combat
-Fighter Squadron - 12 Combat
-Fighter OCU - 12 Combat/Training
-AEW/EW Squadron - 4 AEW, 2 ELINT
AirBase 3 - Grand Is. (Army Support Group)
-Attack Helicopter Squadron - 12 Attack Helicopter
-Utlity Helicopter Squadron - 16 Utility Helicopter (Light)
-Utility Helicopter Squadron - 16 Utility Helicopter (Medium)
AirBase 4 - Grand Is. (Maritime Support Group)
-Maritime Patrol Squadron - 6 Patrol (4 if detachments excluded)
-Maritime Patrol Squadron - 6 Patrol (4 if detachments excluded)
-Maritime Helicopter Squadron - 12 ASW Helicopter
-Maritime Helicopter Squadron - 4 ASW Helicopter (also OCU), 8 SAR Helicopter
AirBase 5 - Grand Is. (Air Transport Group)
-Light Transport Squadron - 12 Light Transport (8 if detachments excluded)
-Medium Transport Squadron - 12 Medium Transport
-Heavy Transport Squadron - 6 Heavy Transport
-Air Refueling Squadron - 4 Tanker
-VIP Squadron - 8 VIP, 4 VIP Helicopter
AirBase 6 - SE Is.
-Fighter Squadron - 12 Combat
-Helicopter Squadron - 8 Utility Helicopter, 4 SAR Helicopter (6 Light, 2 Medium)
-Maritime Patrol Detachment - 2 Patrol
-Light Transport Detachment - 2 Light Transport
AirBase 7 - NW Is.
-Fighter Squadron - 12 Combat
-Helicopter Squadron - 8 Utility Helicopter, 4 SAR Helicopter (6 Light, 2 Medium)
-Maritime Patrol Detachment - 2 Patrol
-Light Transport Detachment - 2 Light Transport
Many thanks to Eswube who helped me figure the numbers and compile everything together.
I will be updating this post and adding more stuff as I consolidate my data.
Ships will come in time, as well as vehicles and aircraft.
-EZ