All of the ground and air equipment used by the United Antarctic Program.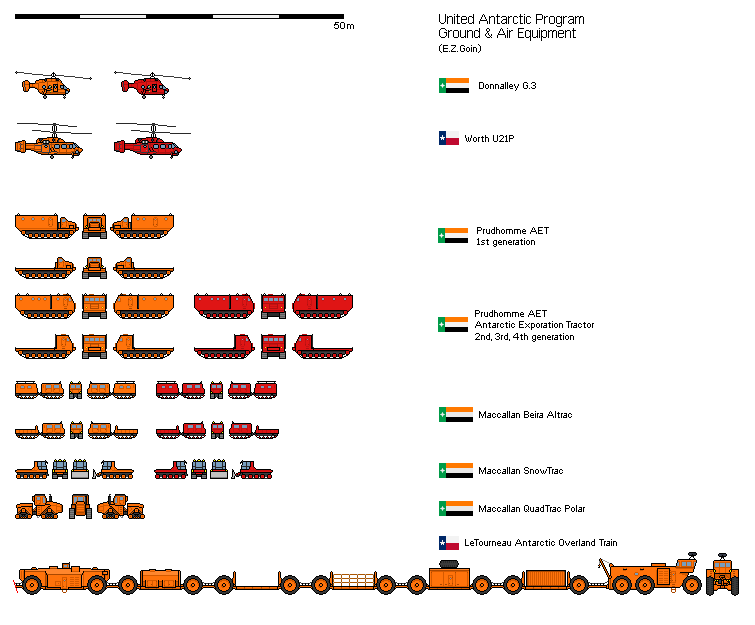 Donnalley G.3 Gyrodyne
The G.3 Gyrodyne was first introduced in 1963, by Donnalley Aerospace of Tramor, Salide. The initial design has seen many upgrades through the years, the most prominent of which is the silencers added to the rotor tip-jets, which reduced the noise from 115db to 95db. The implementation of more powerful engines and two forward facing propellers driven by the main engines to create quick forward movement have made the G.3 the most popular light helicopter in the United Antarctic Programme.
Crew: 1-2
Capacity: 7 passengers or 1000kg internally, 1200kg on external sling
Cruise Speed: 280kmh
Range: 600km
Hover Ceiling: 4200m
Worth U21P
The Worth U21 is a Texan mid-size helicopter, with a capability similar to that of a Bell 412 or Kamov 27. The base aircraft model was introduced in 1980, with a polar variant introduced in 1984. It is equipped with a co-axial rotor configuration and 4 wheel landing gear.
Crew: 2
Capacity: 16 passengers or 3500kg internally or 4000kg on external sling
Cruise Speed: 205kmh
Range: 1030km
Hover Ceiling: 5000m
Prudhomme AET Snow Tractor
The Antarctic Exploration Tractor is a mobile lab and dormitory used the DAS and RSAC. It is manufactured at the Prudhomme factory in Denton. The AET has been manufactured through 4 generations spanning 60 years. The 1st generation AET was built in 1960, inspired by the Soviet Kharovchankas. The design was simple with an artillery tractor cab in front and a large box housing accommodations and laboratory spaces in rear. The 2nd generation of AETs featured an entirely enclosed cab and living area, a redesigned chassis, and a more powerful engine. This second generation design was introduced in 1968, which the Soviets eventually took inspiration from for their 2nd generation Kharkovchankas. These 2nd generation AET designs soldiered on until 1995, when they were upgraded to 3rd generation (and several new 3rd gen units were produced). The 3rd generation featured upgraded living spaces and a more powerful engine. The 4th generation upgrade took place in 2019-2020, which again added a more powerful engine, further refined living spaces and the addition of up-to-date modern technologies including remote control capability for additional support tractors.
There are three 1st generation AETs working as cargo tractors, eight 4th generation AET cargo tractors, and twenty three 4th generation AETs working with Salide, Denton, and Texas, under the UAP banner.
Length: 9.3m
Width: 3.8m
Height: 4.0m
Engine: AIW 840kW, 2300Nm V8 bi-turbo (4th generation upgrade)
Cruise Speed: 30kmh
Weight: 35 tonnes
Tow Load: 70 tonnes
Interior Floor Space: 30m2
Accommodations: 8 bunks
With the 4th generation upgrades (2019), the AETs have built-in support for remotely controlling two Maccallan SnowTracs, allowing them to accompany an AET without requiring additional drivers.
Maccallan Beira Altrac
Named after the Salidan goddess of winter, the Beira is similar in dimensions and capability to the Sisu Nasu. It is a small articulated vehicle, primarily used for passenger transport. It is fully amphibious and able to haul 5 passengers in front (in addition to the driver) and 12 passengers in the rear unit. The rear passenger transport unit can be swapped for a flatbed with a crane, for light cargo duties.
Altrac is an acronym, All Terrain Amphibious Carrier. The first Beira Altrac was built in 1984, and offered for purchase in 1985.
Maccallan SnowTrac
Designed and built by Maccallan Equipment Co., based in Ballyveagh, Salide and produced under license by Oshiro Motors in Denton.
Used for transporting cargo via sledges or by spanning loads between two SnowTracs. The 3rd generation (2017) SnowTracs are capable of being controlled from a neighbouring unit, with up to two additional units being controlled from one SnowTrac cabin (through a built in controller system) by either the driver or a passenger.
Maccallan QuadTrac Polar
The Maccallan QuadTrac is a standard agricultural tractor. The DAS expressed interest in a large sledge tractor to haul components and supplies to and from its Bentley Station and Dome A Station and Telescope. Maccallan responded with an adaptation of the QuadTracP for use in the extreme Antarctic climes, with the primary changes being a larger fuel tank (bringing total capacity to 3150l), optimisation to run on the DAS Biofuel Blend, and a new heavly insulated cab that can hold up to 3 people. The new cab contains a fold down table along the back wall, with some small cabinets behind, which contain food stores, as well as small basic kitchen appliances. A self-contained toilet system is located underneath the folding table. The seats for the driver and passengers can fold down almost flat, providing a temporary bunk, allowing for drivers to switch without stopping.
While Maccallan does not offer its standard agricultural models with remote control, the QuadTrac Polar model was retrofitted with remote control capabilities in 2017, as is equipped in the SnowTrac. However, only one QuadTracP can be operated from the cab of another. Two SnowTracs can be controlled remotely from the cab of a QuadTracP, though not in conjunction with another remote QuadTracP.
The QuadTrac was introduced in 1992 and a Polar variant introduced in 1994.
Length: 7.4m
Width: 3.5m
Height: 3.8m
Engine: Maccallan 500kW I6 bi-turbo
Cruise Speed: 20kmh
Weight: 30 tonnes
Tow Load: 70 tonnes
Fuel Capacity: 1850 litres + 1300 litres
LeTourneau Antarctic Overland Train
The LeTourneau Antarctic Overland Train is an off-road, over-land articulated cargo carrier. It is the longest off-road vehicle in the world, able to reach a length of 192m through the use of a leading front unit, 10 cargo trailers, and two independent power units (placed in the middle and at the end).
The first AOTs were to be delivered to Siple Island Station to assist in the construction of the stations which would make up the Bentley Traverse in Marby Land in 1963. However, issues with transportation and some issues that arose from testing delayed the arrival of AOT-1 until 1964, and AOT-2 until 1965. AOT-1 and AOT-2 are owned by the Denton Antarctic Survey.
The third model, AOT-3 was purchased by the Denton Antarctic Survey, but given on permanent loan to the United States Antarctic Program in McMurdo. This was done to first assist in construction of the geodesic dome station at Amundsen–Scott South Pole Station and later for the elevated station beginning construction in 1999.
A fourth AOT, AOT-4 was purchased by the United Antarctic Programme as a joint venture and deployed to Novak Station, in the Larsemann Hills, in 1998, to assist in construction of the Dome A Observatory Station. It was at this time that AOT-2, at Siple Island, was shipped to Novak Station.
Due to the massive size of the Antarctic Overland Trains, they are continuously based at their home Antarctic station, with select units or components being packed and shipped to Texas only when an overhaul or major maintenance is required. The AOTs may go through multiple seasons in which they are not used, except for when they need to be repositioned to prevent being snowed in place.
Second generation upgrades were completed on all units between 2005 and 2013. These upgrades included the removal of the original Caddo V12 engines and their replacement with brand new Caddo V8 bi-turbo engines, which were lighter, produced more power, and used less fuel, therefore increasing the range of the AOTs. Other life extension upgrades were done, which included new electric motors and control systems, new tyres which were reformulated and optimised for the Antarctic conditions (using computer modelling), and a completely redesigned cockpit.
Front Unit Specifications
Length: 14.6m
Width: 5.0m
Height: 5.5m
Engine: 2x Caddo 520kW V12 turbo; 2nd generation upgrade - 2x Caddo 640kW V8 bi-turbo
Cruise/Max Speed: 30kmh/40kmh
Weight: typical 35 tonnes; 45 tonnes with internal fuel tanks at full capacity for increased range (at reduced speed of 20kmh to prevent tyre overheating)
Crew: 3 - driver, mechanic, co-driver
Power Unit Specifications
Length: 13.1m
Width: 5.0m
Height: 4.4m
Engine: 2x Caddo 520kW V12 turbo; 2nd generation upgrade - 2x Caddo 640kW V8 bi-turbo
Weight: typical 25 tonnes; 35 tonnes with internal fuel tanks at full capacity for increased range (at reduced speed of 20kmh to prevent tyre overheating)
Trailer Specifications
Length: 13.1m
Width: 5.0m
Height: 4.2m
Weight: empty 10 tonnes; typical load - 15 tonnes; max load - 30 tonnes (at reduced speed of 20kmh to prevent tyre overheating)