Funny,
the navalanalyses page on Turkish FACMs
has some very good side views that show a much less straightforward cupola shape than in the old SB version.
Now maybe you accounted for that and dismissed the extra curves as not significant to scale.
In any case, if I may submit a counter-proposal: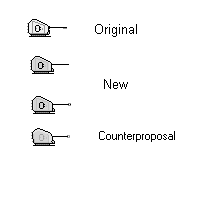 I modified a few other points in this version:
- Toned down the trapdoor outline so it doesn't stand out that much
- Removed most plate lines that I couldn't find on the pictures, just put the forward one back to account for the faceting
What I haven't done is look up the scaling, since I haven't found drawings to scale or with lengths for this mounting. The only input so far is the
gun length
, which you can use to roughly scale the cupola if you have the right visual cues and POV in pictures.
_________________
Soviet Century/Cold War 2020 Alternate Universe
: Soviet and other Cold War designs 1990-2020.
My Worklist