Since Norway have only 4 frigatt in it's arsenal, these 4 frigates together with HNoMS Maud have to work overtime, to fulfill all roles (according to the Navy!)
due to this Kongsberg groupe have come with an suggestion, for a cheap alternative, since building a new single frigate will be expensive as F***:
There proposal is "Vanguard"
is a multirole vessel, it's supposed to be cheaper than even a corvette and can be build in under two year.
Kongsberg Defence & Aerospace combining there knowledge from maritime, offshore and marine sectors.
The design is a module based design (similar to Stanflex).
- The Vanguard system is largely based on civil and commercial ship design, combined with
flexible military missions. The approach involves significant cost savings
compared to traditional and custom military solutions, KDA points out.
Translated in google-translate (because I'm lazy):
According to Kongsberg, Vanguard will fulfill the needs of a coastal nation for both military and civilian roles, such as search and rescue, port and object security, seabed surveillance, authority and sovereignty claims, denial challenges and submarine and mine hunting.

Vanguard will be a modular solution. The hangar can house helicopters, drones or unmanned surface vessels, and the various equipment packages can be replaced in a relatively short time. For example, there will be a different configuration if the ship goes on research missions than if it is going on a mine search. It will be able to operate with only 16-20 crew members.

The various equipment packages are placed in standard iso-containers and can contain, for example, air defense and sea-going missiles, respectively ESSM or KDA's own NSM, as we know from today's frigates. When it comes to mine hunting, they will contain the AUV-Hugin used by the Navy for detection, classification and identification of mines. Vanguard is also based on an open system architecture to integrate and utilize new technology as it becomes available. Otherwise, the concept has room for a 30-76 mm cannon at the front and a 30-40 mm cannon at the rear as well as two Sea Protector weapon stations.
this vessel can also be an replacement to current minehunter vessels in Oksøy and Alta class.
The concept shows a vessel that is 90 meters long with 4,500 tonnes of displacement, otherwise scalable, which will be a "mother ship" for a number of unmanned vessels, depending on the assignment, as well as the NH90 helicopter.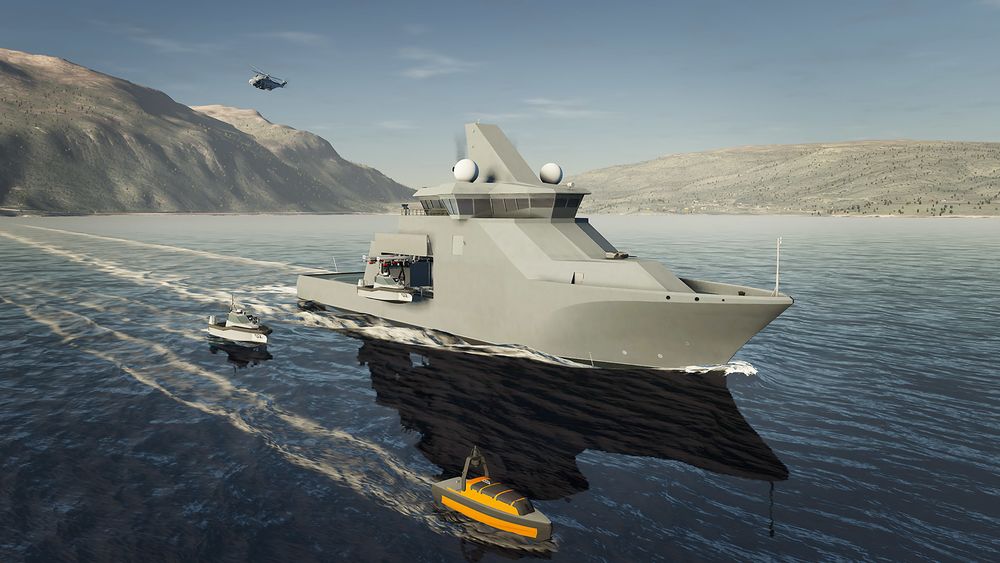 youtube video
https://www.youtube.com/watch?v=XeX3DdTFRKo