Something to restart discussion.
Aircraft of the fleet air arm are displayed by categorys; Fighter/Interceptors, Torpedo/Dive Bombers, AEW&C, Ship-board spotter planes, Trainers, Land-based patrol/ASW and Rotary Wing.
The version of the CAC Boomerang and the Gloster Peregrine are aircraft i've adapted/created for this AU;
- The CAC Boomerang MkIV is an AU version of the original CAC product tailored for naval applications. It features an upgraded engine in the the form of the bristol Hercules/Centaurus radial, as well as improved laminar flow wings and bubble canopy for improved pilot viability. It's main armament consists of two aden cannon and two .50 machine guns. In this form it is more than a match for most axis aircraft it will likely come up against in RFN deployments during WWII and the immediate post-war era. It will replace the T6 Texan as the FAAs Primary flight trainer in the post-war years.
- The Gloster Peregrine is a 'what-if' aircraft based on upgrading the proposed Gloster F5.34 fighter design to something that could well have been a contemporary of aircraft such as the P-51, later marks of spitfire and the Hawker Typhoon/Tempest/Fury design series of fighters. It shares the same Bristol Hercules/Centaurus Radial engine as the latter family of designs, and carries the same basic armament/s.
Royal Falklands Navy - Fleet Air Arm (1939-1955)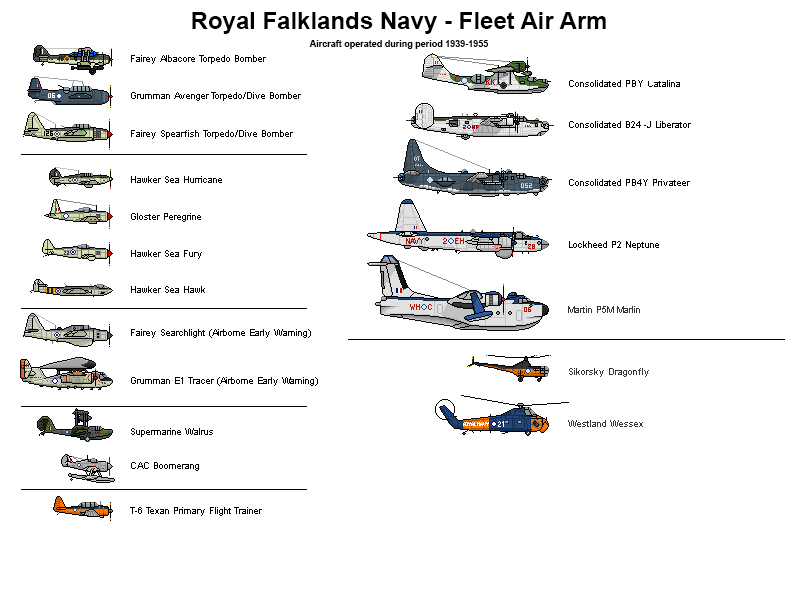 Royal Falklands Navy - Fleet Air Arm (1955-1980)
Royal Falklands Navy - Fleet Air Arm (1980-2014)
space saver
Work on my WWII Ships of the Fleet is continuing but will likely take some time as i'm back in the throws of a Uni semester now.
Cheers
_________________
"Come to the Dark Side... We have Cookies!"
____________________________________________
____________________________________________
Current Worklist;

DCFI (Falkland Islands) AU Nation