Jesus, I'm out of practice, been skimping out on U-Boot Emblems. Why Australia? why must you have curved text?!
This one is my bane at the moment, HMAS Launceston, the Body is done, at least to my blind eye but the text is being a pain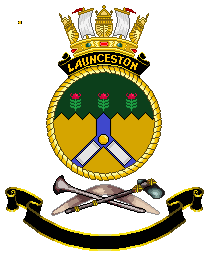 _________________
Work list(Current)
Miscellaneous
|
Victorian Colonial Navy
|
Murray Riverboats
|
Colony of Victoria AU
|
Project Sail-fixing SB's sail shortage
How to mentally pronounce my username

Row-(as in a boat)Don-(as in the short form of Donald)Dough-(bread)
"Loitering on the High Seas" (Named after the good ship Rodondo)
There's no such thing as "
nothing left to draw
" If you can down 10 pints and draw, you're doing alright by my standards