Marvelous work on those badges, DG_Alpha!
_____________________________________
I am currently updating my drawings of Panzerschiff "Graf Spee" and thought it would be nice to include a bigger CoA.
But, after some reasearch and browsing through different reference publicatons, I am wondering what the "official" CoA of the ship really looked like.
As of now I have found two different variants, of which I have attached an example drawing: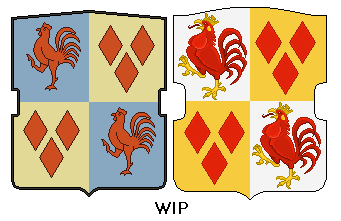 The majority of sources are showing the more simplified version on the left, while I have one book displaying the more elaborate one on the right.
So this one book left me wondering which one is correct and after looking at many pictures again, I came to no definite conclusion.
Interestingly, during her launching ceremony, the more intricate looking crest was apparently painted on her bow:
http://deutschland-class.dk/admiral_gra ... aunch.html
http://www.maritimequest.com/warship_di ... f_spee.htm
I know that the smaller insigina worn on her main battery turrets ("Scharnhorst" and "Gneisenau") were rather complex, showing full heraldistic family CoA's.
This might suggest, that the larger bow badge was also a bit more elaborate. (?)
Maybe someone has more information?
Thanks!
maomatic