Polskie Linie Lotnicze "Lot" (1929-1930 - The Beginning)
From the 1st of january 1929 state-owned
Polskie Linje Lotnicze "Lot"
(
Polish Air Lines "Flight"
)took over assets and operations of the previously existing airlines in Poland. For practical purposes it meant mostly the fleet of Junkers F-13 planes from
Aerolot
as
Aero
's Farmans F.70 were already worn out and were therefore sent straight for scrapping. In the 1929
Lot
operated scheduled domestic flights between Warsaw and Kraków, Poznań, Katowice and Bydgoszcz, as well as international flights between Katowice and Vienna via Brno (Czechoslovakia) and - starting in 1930 - between Warsaw and Bucuresti (Romania).
In the 1929 plane registrations used by Poland changed from initial P-XXXX format to SP-XXX format, that is still in use.
LOT
took over whole remaining fleet of Junkers F-13 from
Aerolot
, that is 15 planes (P-PALS crashed in 1925). Gradually they were re-engined from Junkers L-2 engines into L-5 engines, as well as had their tails modified, and in 1929 having registration numbers changed into SP-AA... format. P-PALP was discarded in 1929, SP-AAC and SP-AAD in 1931 and SP-AAH in 1935. Remaining aircraft served until 1936 wen they were re-sold back to Junkers, extensively refurbished and sold to Canada, where they later served for many years to follow.
Poland, Junkers F-13

Already in 1928
Aero
bought 6 Fokker F.VIIa/1m planes (P-POZM "Maryla", P-POZN "Nina", P-POZO "Oleńka", P-POZP "Pola", P-POZR "Rena", P-POZS "Sława"). In the 1929 they were re-registered into SP-AA... format and served until late 1930s, undergoing during that time several upgrades (glass side windows in cockpit - 1930, metal propellers - 1931-1932, radio equipment - 1932-1933, signal flare launchers on wingtips - 1933), including being re-engined in 1935, with Skoda-Lorraine-Dietrich LD-12Eb inline engines being replaced with radial Skoda-Bristol Jupiters.
Poland, Fokker F.VIIa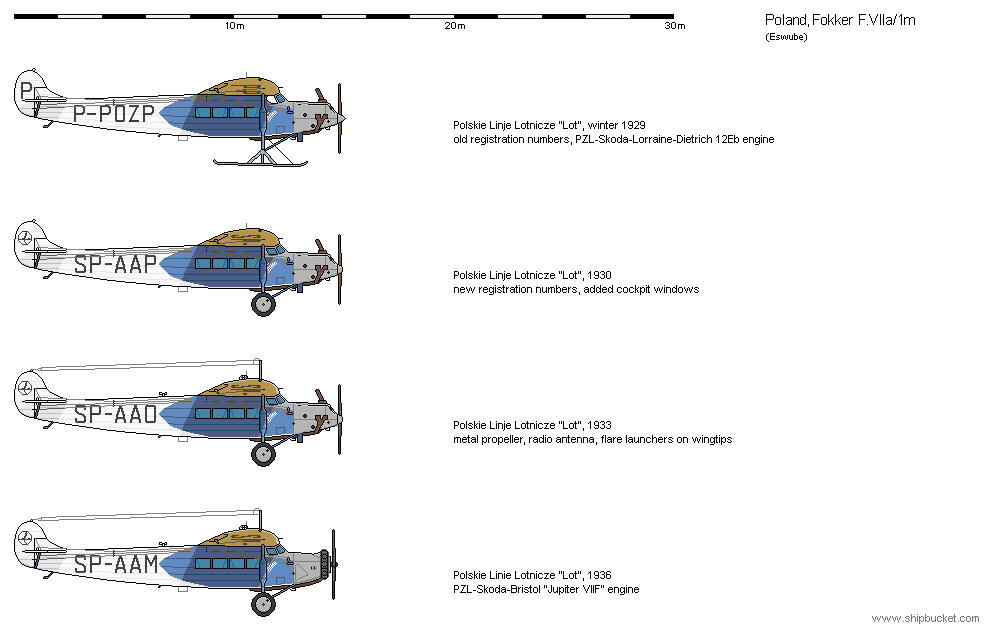 At the same time when
Aero
was buying its single engined Fokkers, Poland's ministry of communications bought in the Netherlands the right to produce it's three-engined version F.VIIb/3M, together with single Dutch-manufactured airplane, registered as P-PAAA. There were plans to use this plane for Transatlantic Flight attempt, but because the state authorities were officialy supporting preparations for such flight undertaken by major Ludwik Idzikowski and major Kazimierz Kubala on Amiot 123 plane, requested permission was not granted. It was allowed, however, to attempt a Warsaw-Baghdad flight. Between 9 and 11 june 1928 lieutenants Kazimierz Kalina and Kazimierz Szałas made a 32-hour non-stop flight over Poland as a test for the Baghdad flight, which started on the 30 of july 1928 with crew composed of Kalina, Szałas and technician sergeant Stefan Kłosinek. Plane reached Baghdad safely, but crashed during landing approach, when ground control mistakenly fired wrong sequence of signal flares causing plane to go on go-around during which it hit a terrain obstacle. Szałas died during accident while Kalina and Kłosinek were wounded.
In Poland Fokker F.VIIb/3m planes were produced by
Zakłady Mechaniczne Plage i Laśkiewicz
(
Mechanical Works Plage and Laśkiewicz
) in Lublin.
LOT
received eleven of these (SP-ABA "Anka", SP-ABB "Basia", SP-ABC "Celina", SP-ABD "Danusia", SP-ABE "Ewa", SP-ABF "Flora", SP-ABG "Grażyna, SP-ABH "Hela", SP-ABI "Iza", SP-ABK "Krysia" - registration SP-ABC was used twice, first plane being sold to
SABENA
in 1930) while Air Force another 20, most of them in bomber variant. These planes received similar upgrades like their single-engined brothers, although their engines (Wright J-5a Whirlwind) were relaced by Pratt-Whitney Wasp Junior TB engines instead, and only on five of the planes (SP-ABC, -ABF, -ABH, -ABK, -ABI, that were simultaneously re-registered as SP-AOG, -AOE, -AOF, -AOC, -AOT respectively). In 1934 three more planes were obtained from the military (SP-AMI, -AMH, -AMK). Their fates were varied: SP-AOF (in 1936) and -AOE (in 1938) were scrapped after accidents; SP-ABA, -ABB, -ABD (in 1936) and SP-ABE, -ABG, -AMK, -AOT (in 1938) were sold to the Air Force. Remaining four served in
LOT
until the war (with SP-AMH being rebuilt between 1937 and 1938 into two-engined survey plane). In september 1939 SP-AOG, -AMH and -AMI were interned in Romania while SP-AOC was destroyed in Warsaw.
Poland, Fokker F.VIIb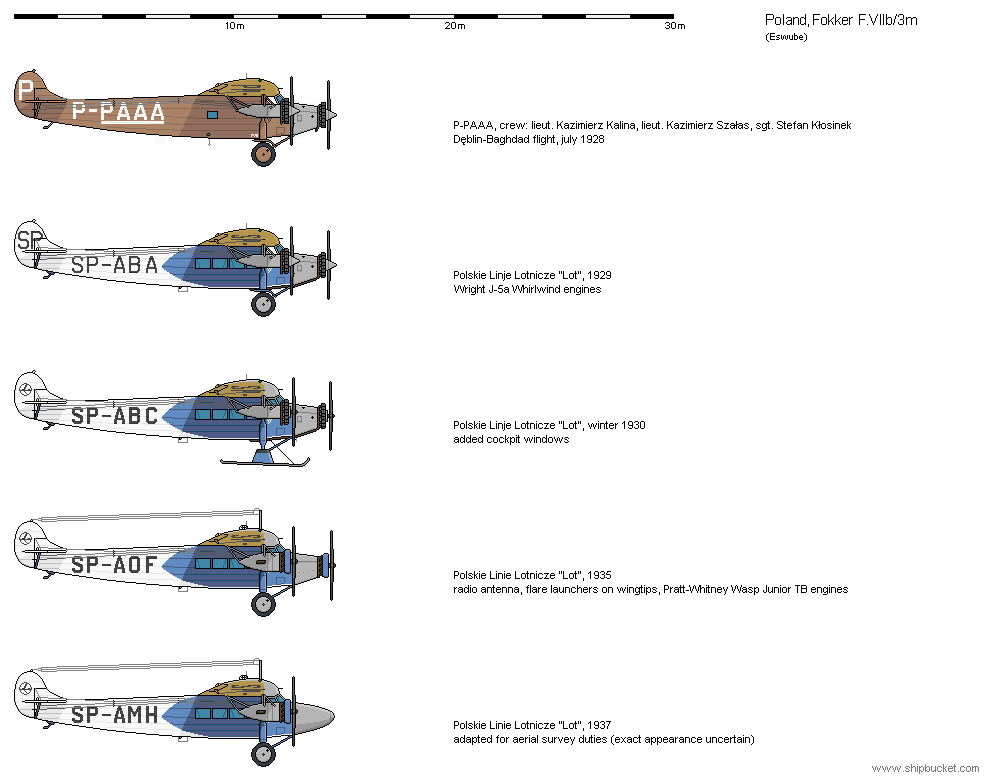 PWS-20 was a prototype of indigenous passenger plane for 8 passengers, created by
Podlaska Fabryka Samolotów
(
Airplane Factory of Podlasie
) in 1929. In the autumn of that year it took parts in trials in
LOT
after which it returned to factory for modifications. Next year, the modified plane, together with second prototype (both designated PWS-20bis and registered as SP-AAZ "Zula" and SP-AAY "Yaga") were again used for trials by
LOT
, that lasted until 1931. Planes weren't succesful designs and therefore they didn't enter production.
Poland, PWS-20

Lublin R.IX was a prototype of passenger aircraft (8 seats) derived in 1929 from Lublin R.VIII warplane. Unfortunately, already the initial flight tests proved that it's performance was far behind Fokker F.VII but with much higher maintenance demands, therefore it didn't even reached the stage of operational trials with
PLL LOT
.
Note: Added 26.01.2014.
Poland, Lublin R.IX

Also in 1929
Plage i Laśkiewicz
works built small (2 crew, 4 passengers) passenger plane for local communication, planned as a replacement for Junkers F-13. It was registered as SP-ACC, flown in 1930 and between june 1930 and july 1931 underwent - unsuccesful - trials in
LOT
.
Poland, Lublin R.XI

Single De Havilland DH-60G Gipsy Moth was bought by
LOT
in 1930, registered as SP-ADX ("Xawery") and used for taxi and service flights until 1932, when it was sold to aero-club.
Other DH-60G shown in this picture never served in
LOT
but I thought it's good ocassion to show it here. It was a private plane of lieut. Kajetan Czarkowski-Golejewski who used it on a private (not supported by authorities) flight to Far East. Due to opposition from Polish authorities (after several highly-publicized record flights that ended in disasters), Czarkowski-Golejewski started his flight in Rome, on 15 of march 1931. Flight led through Brindisi, Athens, Konya, Ar-Ramadi, Al Diwaniyah, An Nasiriyah, Shaibah, Bushehr, Bandar-e-Magam, Bandar-e-Lengen, Yask (?), Chah Bahar, Karachi, Jodhpur, Delhi, Allahabad, Calcutta, Akyab, Rangoon, Bangkok, Sissikat. Planned flight were to end in Tokyo, but over Laos heavy thunderstorms forced an emergency landing on 5 of april 1931, during which plane was destroyed and pilot wounded.
Many thanks to Darth Panda for his De Havilland DH-82 Tiger Moth, parts of which I used for this drawing.
Poland, De Havilland DH-60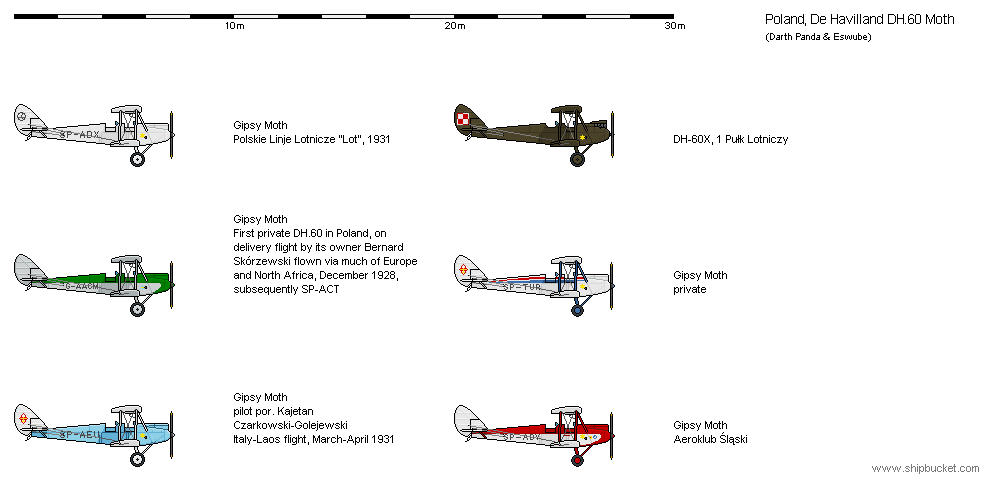 EDIT:
Note: Lublin R.IX added 26.01.2014.