UISKOMIEHET
Despite being somewhat loyal members of the High Kingdom of the King of Kings in Saraste, the Evo
Rajakunta
(that is a border march of sort) has not forgotten its maritime traditions and heritage among the other people in the north.
Since the coastline of
Evo
(and Its Capital/only castle
Neidonlinna
is somewhat landlocked from the Inland Sea of
Raivenne
in the west, the Evo and Its
Rajavalta
(that is equivalent of a Margrave) Toivo Kultaparta has turned his eyes on
the East, towards the vast wilderness of
Vaeltajainmaa
and its uncharted lands of great rivers and lakes.
Uiskomiehet
are his special form of military units, structured around their small ships, the
uisko
s which usually at 40 feets long and single sail,
together with 4-6 rows of oars are nimble and efficient on small scale expeditions in both open seas, and inland lakes, yet nimble enough to navigate trough rivers and their reinforced keels allows them to not only beach on basically every shore, but also be towed
across the portages and therefore allow huge mobility among the countless miles of the
Vaeltajainmaa
and reap its riches in fur and game.
Usually an
Uisko
can take about 10-20 mens onboard, (varying on the level of comfort) and there is not much of organisation beyond simple captain & his men. In here we have presented a Uisko called "Vesilisko" commanded by Taisto Toivonpoika (Son and heir of
Rajavalta
Kultaparta) and thus is one of the most better manned vessels and its divided between a vanguard and a rearguard, each commanded by a junior commander from
Rajakunta
s standing army, while the ranks are made up from volunteers from the local peasants militia. Evo is poor and wartorn nation with little resources and opportunities thus participating in these expeditions is a intriguing opportunity for those seeking adventures beyond their home village.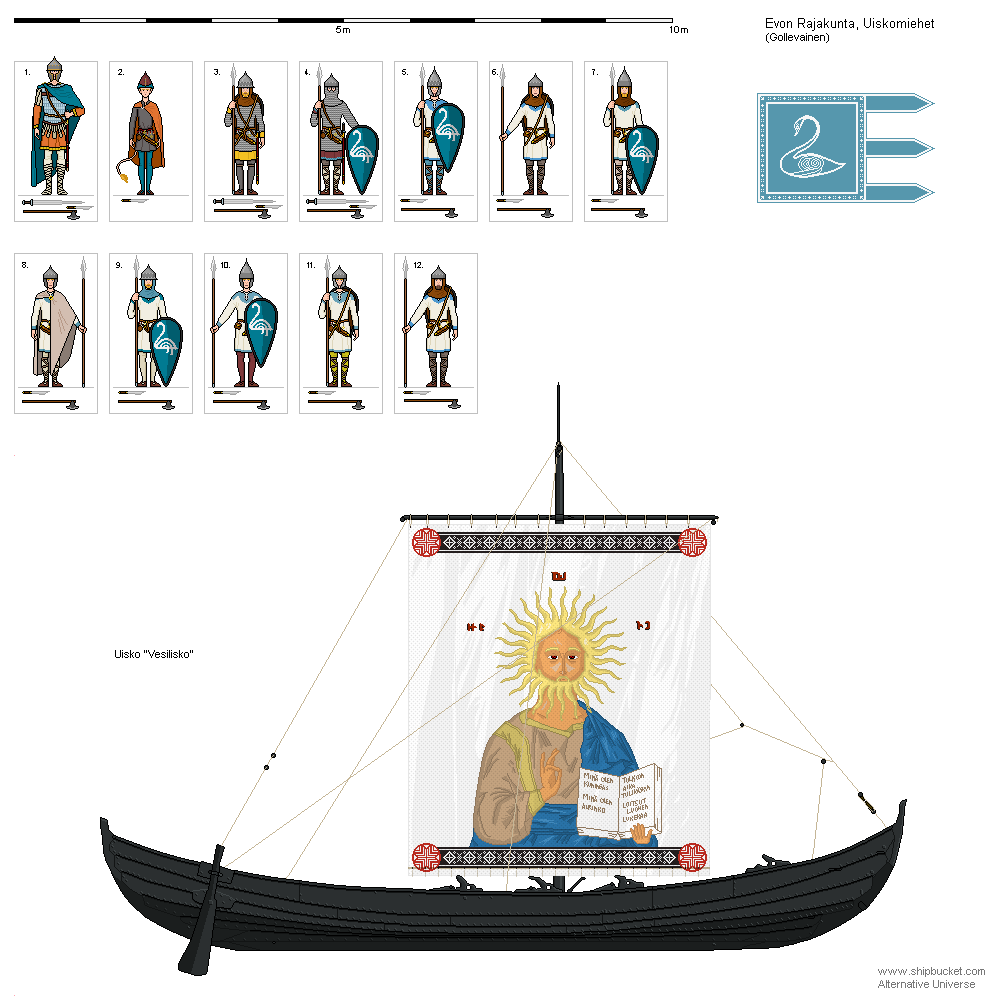 1. Taisto Toivonpoika, in his demigod posture and presence, has earned himself a nicknames like
Tulenloimu
(flicker of fire),
Evon Liekki
(Flame of Evo) and thus has deep gratitude and alliangment for the Kahti, God of Fire, which is also portrayed in his magnificent
sail, sowed by no-one less than the
Seamstress
of the Aravala in the mystic Island of women and the flaming eyes of the god idol has often been enough to strike fear into the very souls of the primitive enemies and dissedents to the rule of Evo cross the eastern wilderness.
Taisto here is portrayed carrying his fathers lamellar chest armor and epilorikon padded jacket. His helmet is of the modell worn by the guards of the King of Kings in far southern lands. Taisto is armed with his sword and axe, both also made in south
2. Taateli, an
Aarni
squire of Taisto of the somewhat elvish race; he is no combatant, but the nature of his soul being conjugated to the other-world and to the Great pathway of the Deaths assures his role in side of Taisto's expeditions. He is also quite good cook.
3. Antras Onninpoika, Taisto's trusted friend and core military companion, most likely leader of Taisto's Druzhina, if he ever gets to a position to gather one. Due his family being those of quality in Evo, he is rich enough to own a a haberk and also a sword made south of Sea of Raivenne, a proof of quality, since swordsmiths are rare among the northern lands.
4. Laurakainen, An old warrior from Toivo's court, accompained in Taisto's crew mostly out of his fathers wish to monitor his sons activities. He has earned his mail hauberk and coif and sword from gratitude of service, despite being man of low lineage.
5. -12. The volunteers: Uhma Lemminpoika, Pekko Aikamiehenpoika, Pertteus Pasakoskilainen, Herkule Herkuleenpoika, Lintumieli, Korsa Aurinpoika, Kosta Aurinpoika and Lauri Pöllö
The volunteers have been given by the
Rajakunta
a token equipment, mere surcoat with the standards colors, a spear and a helmet, thought most of them accompanies with their own axes and
väkipuukko[/] (a sort of saex) All of them (Except Herkule who has lost his own to everyone's annoyance) have also been given kite shaped shields with the Evo's white swan motif on blue surface.