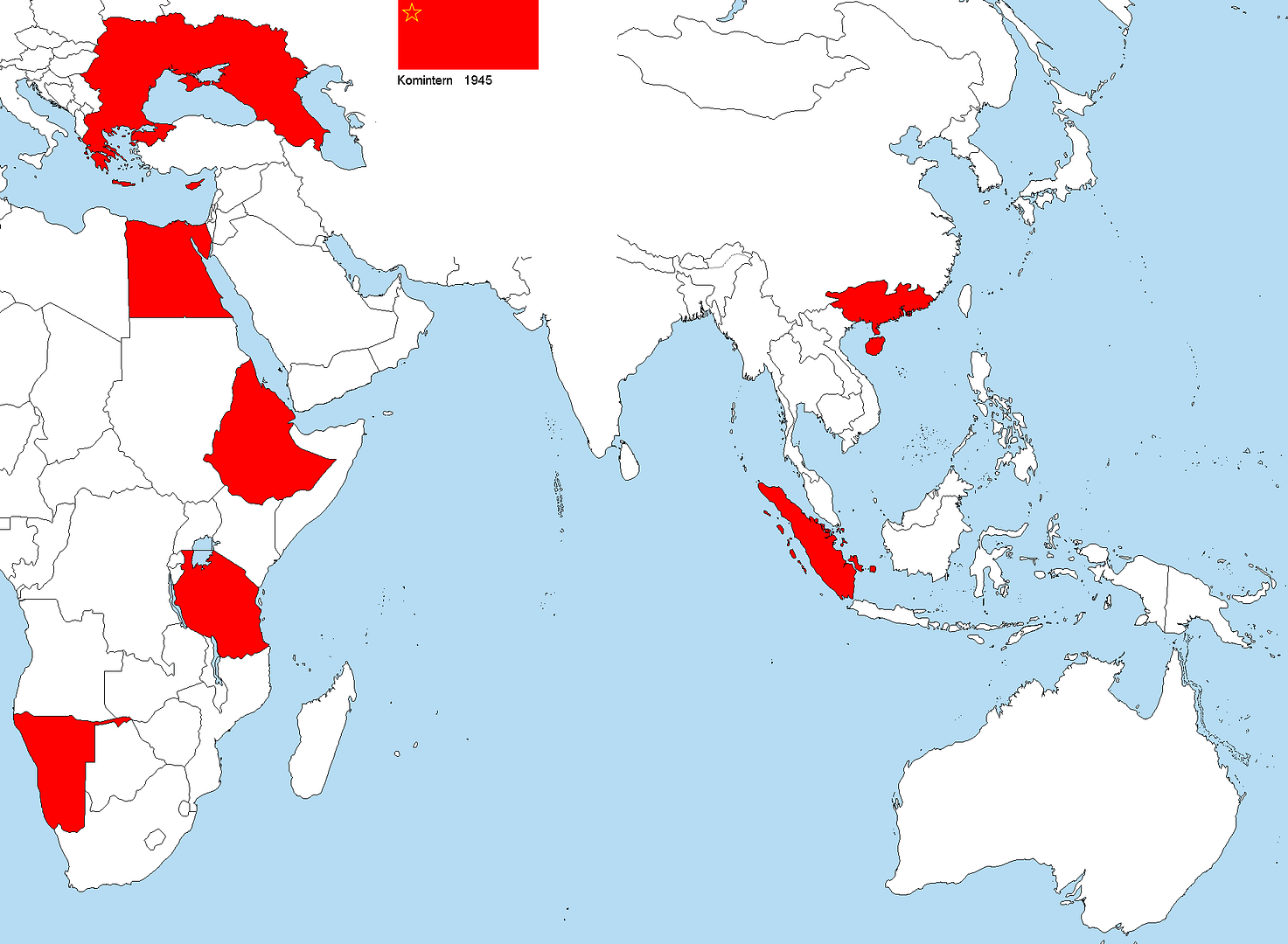 Komintern
• 1914 Byzantine empire enters world war I.
• 1916 Long dwelling unpleased towards the imperial government leds Duma to overtake the power in the empire. Emperor is seized from the throne and governance is given to the "republicans" a coalition of various political opposition fractions. Young Tsar Igor VII is allowed to move to Russia. Official name of the empire is referred as "Union of republics". The new government agrees to continue the war against Germany and Austria-Hungary.
• 1917 Although UR is still fighting against the central powers, it's war efforts are not that considerable. It tries secretly seek peace from the central powers but no agreement is found. Meanwhile the power inside the republican coalition is drifting towards the communist which already was the largest single fraction inside the movement. Similar republican uprising takes place in Russia and at the end of the year, communist conducts the October revolution. As soon as Bolsheviks assumes control, they start seeking peace with the Germans.
• 1918 Soviet-russia makes peace with the Germans. UR is divided between the communist which wanted to make peace with the Germans as well and between the other republicans who didn't want to share the same fate as Russia and been forced to cede areas. The latter party remained stronger and the war continued. The drift between the communists and others grew and most of the army and navy were rabidly turning "red". The war ends finally in November and the nominally still democratical UR received preparations from the losing side. UR gains Transylvania from Austria-Hungary and most of German colonies from Africa and Asia. As its evident that the communist rule was quite strong in UR as well, other entente nations didn't want to hand over too much gains to UR. Especially British were very suspicious of the true nature of the republican government. Thus the former close ally, Serbia which relations towards its former protector were seriously cooled gained the lion share of the partition of the Hasburg empire. The right-wing section of the republican coalition was very disappointed that UR didn't receive any additional gains from the dismantled Ottoman empire.
• 1919 The communist section of the republican coalition felt strong enough to break out from the coalition. In 15th of may the communist overtook the government and declares a dictator of the proletarian. The revolution is swift and effective, and most of the mainland is in communist supervision during the summer. The remaining standing army after world war 1 was already under strict communist rule and Red Army is founded immediately. The Navy was actually ahead of the whole government as the communist sailors and cadets conducts the "bospor rebel" in april of the same year. It was actually the launching event for the entire revolution. The nation is now called "Union of socialist republics" or USR.
• 1920 USR sends voluntary based red guards to help Soviet Russians in their civil war. Foreing powers are alarmed of the rapid expansion of communism, but are reluctant to start full scale war. Unlike Russia, USR appears being far more united and fully in communist control. However, in the colonies, especially in Asia, the old royalist power still enjoys support among the nobles and upper class colony overlords. Sumatra and Quanghi declears independent and reclaims the Byzantine empire by issuing the cousin of the last emperor as a new emperor. Despite being heavily anti-communist, no foreign country recognizes it.
• 1921 USR sends a taskforce to Quaghi and with the help of the local communists, they overtook the new imperial regime. Sumatra falls soon after as the royalist support is non-existing among the local population. The new regime in the mainland brought a new exiting idea of equal status among the nations inside the new Union of socialistic republics.
• 1922 After the civil war ending in Russia, there are serious attempts to bring the two communist ruled nations into same rule. A union of soviet Russia and communist Byzantine is being created but the differences and disagreements between the two nations are too big. Officially the reasons are mainly the differences between the interpretations of how the new communist union should be led. Soviets, especially those led by Stalin are not keen on the world revolution concept, which again was mainstream in USRs thinking. Eventually the discussions fell apart and two communist federations are created; Union of Soviet Socialist Republics and Communist International or Komintern as it's being shortened.
Kominterns idea was forged with the idea of true Marxist world without the bourgeois country elements. It was build around the idea of communist parties rather than any nationalist countries. At the start the Komintern was formed between the communist party (Byzantines main party) and the communist parties of Georgia, Azerbaijan, Armenia, Sumatra, Ethiopia, Quanghi and Egypt. Later several communist parties around the world joined the union.
Altough the concept of the nation was very revolutionary and from normal borgerous nations point of view, heavily expansionist and dangerous in reality it was just new clothes for the Byzantine imperium.
• 1923 The peak of communist and socialist uprising and tension in Europe has cooled down. In bourgeois world it is felt relief as the feared world revolution never came. Nations starts in all silence building up relations with the new Komintern.
• 1924 V.I Lenin dies in Soviet Union, Josif Stalin takes over which cools even more the already non-pleasant relations of the two communist blocks.
• 1925-29 Komitern starts steadily grew back to its feet's after the turmoil caused by the revolutions. Ownership of production is moved to the working class, or their representative; Socialistic government. Large former noble led farms were taken over by the government and small farms were organized into collective farms. The transformation into socialistic economy didn't go smoothly; a lot of small uprisings took place especially in the countryside and among cultural minorities. However the famines and mindless terror didn't took place in Komintern in such scale as it took in the Soviet Union. Foreign relations with many nations improved but especially with Italy, Hungary and Turkey, the relations remained very cold.
• 1930 Komintern is invited into the London Naval Congress. The other major naval powers felt that Kominterns emerging fleet rebuilding program would eventually lead similar anglo-german dreadnought race as was seen prior WWI. As a carrot, several lucrative trade deals for Komitern was promised if it agrees to sign the London Naval treaty which imposed tonnage and armament limitations for Kominterns Red Fleet.
Komintern was allowed the following tonnages of warships:
Capital ships; 315 000 tons
Carriers: 81 000 tons
Heavy cruisers: 108 000 tons (12 units)
Light Cruisers: 100 450 tons
These new restrictions were imidiately adopted for the new shipbuilding program and several interesting adoptions took place.
• 1931-39 Komiterns activity in international spectrum increases. Relations with Soviet Union remain problematic. Both sides acknowledges that unless they work together, bourgeois world can easily turn the two communist powers against each others. In 1932 a declaration of Understandment and Friendship is signed between Komintern and Soviet Union. This tried to co-ordinate the efforts of co-existence of the two powers but as well as end the dispersion and competition of influence over foreign communist parties. In practice this does not prove out working as seen in China and Spain.
1936 Civil war broke out in Spain. Both Komintern and Soviet Union send assistance and help to the republicans. Komintern was hoping that Spain would finally be the standing point of Komiterns original idea for "worlds nation". This causes a lot of worrying in west and therefore France nor UK won't support the republicans and declared embargo over Spain. Germany and Italy are meanwhile working actively to help out the nationalists and violating the embargo. Soviet Union was far more pragmatic in its support for the republicans. It tried to keep the republican side united where as Komintern was actively trying to set up a socialistic state in Spain. The rivaling between Soviets and Komintern was generally toughed to be the main reason why republican side lost. The communist party of Spain was under soviet influence and POUM movement was the instrument of Komiterns ambitions. Eventually the two parties ended up fighting each others, which again moved the two communist powers further apart of each others.
When Hitler took over the leadership in Germany, the gloom of new world war started to shadow Europe. Mussolini's Italy grew more and more arrogant and megalomaniac with new ally in north. Mussolini worked actively to uniting the fascist and rightwing extremist powers in Europe against Komintern. This led to the Tripact; alliance between Italy, Hungary and Turkey which all had claims and gains from Komintern. In 1936, Italy occupied Somalia which threatened Ethiopia. In 1937 Japan started full scale war in China which again threatened Komiterns interest in Asia. Komitern tried actively seeking bigger coalition against the fascist world but western powers were too suspicious and concerned of Komitern to nothing come out of it.
In 1938 Japan and Komintern clahses at Hainan as Japanese tries to set up a presence in southern China. Komiterns naval presence is minimum in the area and Japanese fleet sank one old cruiser. Japanese are too afraid to start full scale land war but Komintern starts bringing a lot of additional troops and naval units into Asia. It's often believed that the naval clash was orchestrated by Germany and Italy which wanted Kominterns focus and worries be distracted away from Europe.
World turned into blazes at autumn 1939 when Germany attacked Poland. Prior that Germany and Soviet Union signed a non-aggression pact in which they divided eastern Europe between themselves into spheres of interest. Soviet Union also agreed that it wouldn't intervened if Italy and its allies would attack Komintern if Germany remains neutral.
Tripact-Komintern war 28th October 1940 -22nd June 1941
After WWI, Byzantine and it's successor's USR and Komintern gained land from the loosing parties Ottoman empire and Austria-Hungary. When right-wing extremism and ultra-nationalism started to grow in the successor states, Hungary and Turkey a blaming finger was pointed to Kominterns direction. Not only did it held lands and people formely under their rule, the aggressive support to local communists in surrounding nations was enough to Kominterns neighbors to want it's dismantle. To add the situation, Mussolini's Italy dreamed of an Italian empire around the Mediterranean in the footsteps of Roman imperium. In 1936 these three nations signed secret alliance pact known as the "tripact". It's goal was not only a common defense in case of Komitern maneuvers but actively seeking opportunity to launch decicive war to end Kominterns existence. Nazi Germany was aware of the pact and their plans but was not actively involved to the pacts affairs.
When Germany signed a non-aggression pact with the Soviets, Hitler after Mussolini's request managed to bend Stalin to accept tripacts attack plans against Komintern. It's even speculated that Hitler would have promised Caucasus and parts of Ukraine to the Soviets. No written proof of such exists however. After Poland fell and Germany's warmachine begun to roll over Scandinavia and France, Mussolini with in his inferior complex wanted to achive similar triumphs. Plans to attack Komintern was started. Main idea was that Italy would attack from Albania into Greece and in Africa, Hungary to Romania and cutting of Balkans from Ukraine and Turkey to attack in Anatolia and head towards the capitol Kosmopol (Former Tsarigrad). The plan was bold and considered by most even unrealistic but Mussolini was convinced that adopting the devastating German blitzkrieg tactics, it would not prevail. The growing tension in Asia between Komintern and Japan made Komintern to transfer most of its fleet and a lot of troops to China and Indonesia. Italy's plan included rapid seizure of Suez canal to prevent the Red Fleet to return home and challenging Regina Marina.
The war broke out in October 1940. It became somewhat surprise to Komintern which was expecting joint German-Soviet attack from the north or Japanese maneuvering in China. Tripact war machine was not however as effective as the German one. Turkey managed to push trough in Anatolia and the attack was not stopped until in the gates of the capital. Hungary's attack was stopped into Carpathian Mountains and Italy's attempt to push trough Albania was stopped all together. In Africa, Italy's troops managed to took over most of Ethiopia but in Egybt, the attack was stopped before they could reach into Suez. At the end of the 1940 it was evident that Komintern wasen't beaten with the first blow. Red Fleet returned to mediterainian in December 1940 and engaged Regina Marina in the in the Egyptian coast. The battle was a success, Sinking the Battleship Conte Di Cavour and damaging Littorio and Caio Dulio. It was groundbreaking battle as for the first time in history, Aircraft carriers defeated battleships. Red Fleet 's "light section" which included the carriers were headed for seek out Italian fleet ahead the main battleshipfleet.
Italian naval dominance was defeated and Komintern was able to send support to Egypt.
Hitler was furious after seeing the poor results of Italy and its allies. Not only did the initial attack fail but Komintern was showing signs of pushing tripact on defensive mode, especially in Romania and in Caucasus where Turkey's advance was already turned into retreat. Hitler had hoped that tripact would have defeated Komintern before he would launch his attack against the Soviet Union. Hitler was forced to step in and in April 1941 he sended formation of troops into Africa to assist the Italians and launching invasion to Yugoslavia after failing to force Yugoslavia to join the Axis and start war against Komintern. Yugoslavia fell in May after about month of bitter but ineffective resistance.
Operation Barbarossa 22nd June 1941 -9th May 1945
In spring 1941 Hitler is forced to change his plans regarding east. Tripacts poor performance against Komintern failed and now Germany would have to face both communist powers if it wished to continue the war into east. German's war efforts it were critical to cede the Romanian and Caucasus oil reserves as well as the other rich natural resource areas. As for ideological reasons, attack against the communism was one of the most important factors for Nazi propaganda.
The attack started in 22nd of June. It started at the same time on all fronts. Germans objectives were the Arkangelsk-Astrakan line, basically entire Komintern and all of Soviet Union above it. Germans troops were allocated into four armygroups;
1. Northern Army group (Von Leeb) objective: Leningrad
2. Central Army group (Von Bock) objective: Moscow
3. Southern Army group (Von Runstead) objective: Ukraine
4. Balkan Army group (Rossler) objective: Kosmopol
Komiterns defence was largely based from Romania to south. If tripacts attempts to copy German blitzkrieg were poor, the originator of that warfare style didn't fail. Germany's advance was fast and furious and the concentrated use of armour proven superior to Kominterns forces. Germany's plans were to divide Komitern into three sections, striking to Romania and Ukraine. The initial blow was devastating, Komiterns troops were forced to retreat in all fronts. In south the attack is halted on bitter fights in early august but in Ukraine, Germanys central army group pushes onwards and in September –october most of western Ukraine is taken and Odessa and Krim are cut off when Axis troops take over the coast of Romania and reaches to the sea of Asov in December. In north, Germans fails to take over Moscow as well as they fail to destroy the Odessa-Krim pocket. The frontline is fixed for the winter. Altough Germany's attack was devastating, it failed to cede the objectives before the winter. Germans are holding most of Ukraine, Romania up until Danube and parts of Macedonia and Bulgaria. Turkeys mass attack against Kosmopol encouraged by the german advance is rebelled.
Komitern and Soviet Union are both in equally despered situation and the two powers signs an alliance pact which prevents neither party to sign a separate peace with the Axis and dividing the efforts and leadership in the fronts. Whereas Soviet had massive tank army prior the attack, Kominterns red army was mostly infantry based. The new alliance determined the resources and abilities of each nation and it was decided that as Soviets could move their industry into the Urals, they would support the "Don Army" as the troops trapped in eastern Ukraine and Caucasus were called. Germany didn't stand on its feets when the winter was over and begun it's 1942 spring offensive which pushed the Don Army even further east. In July, Rostov has fallen and German troops are heading to Caucasus and towards Volgograd. The doom of Ukraine is near. Towards the end of the year, Germans 6th army reaches Volgograd, the biggest industrial centre of eastern Komintern. However, the depth of Ukraine and Russia has done their deep and Germany's advance has spread too far. Don Army, with the support of Soviet south-west front makes a furious counter attack and manages to encircle germany's troops in Volgograd.
In January 1943 Germany's 6th army surrenders and the whole war enters to a new phase. Germany's war machine is finally stopped. During January to march Don Army pushes Germans from Caucasus and retakes Rostov and Kharkov. The whole southern section of troops fighting against Germany is issued under the leadership of Don Army comprising both Soviet and Kominterns troops. In summer 1943 Germany tries to retake the Kursk salient but fails and the initiative is shifted to Komintern and Soviet Union. In the end of 1943, Odessa pocket is released and in November, Kiev is retaken. In December, Komitern and Soviet Union debates how to proceed in next year and it is eventually decided that each nations should continue under own military leadership and the Don Army is melted back to Kominterns red army. Soviet beguns to push towards Poland and East-Prussia and Komitern towards south-west against Hungary and Yugoslavia.
in 1944 Komitern begun two major offensives, in Romania and in the capital to retake Anatolia. In Teheran's confress, Komitern was willing to sign a separate peace with Turkey if it would offer such so that the main forces could be concentrated on defeating the germans. Operation Merkurius was launched against Turkey where two parallel landings were conducted, in Black sea to cut of the main forces faced against Kosmopol and in Dardanelles. These amphibious assaults combined with paradroppings where one the largest in the whole war after Normandy. Turkeys defence is crushed and their main forces destroyed in the Kosmopol area. After brief discussions with UK and US, Turkey asks peace and is forced to give Armenia and Cyprus to Komintern. In Romania the advance started in may and soon most of Romania is taken back. In September, Komitern starts to advance from Romania and from Macedonia into deep Serbia attempting to encircle and destroy the German Balkan army group. Germans makes ferocious counter attacks and diversion attack from Hungary which is doomed to fail but it gives time to several german units in Balkans to escape the rapidly forming pocket. 15 divisions are however encirceled near Belgrade and destroyed. Germany's defeat is only matter of time. After bitter struggles, Budapest is finally taken in February 1945. Meanwhile Soviets rolls towards Berlin and Komintern beguns to liberate Yugoslavia. While Soviets were fighting in Berlin, Komitern strikes to Czechoslovakia in order to destroy the central army group, the only remaning concentration of troops able to fight. In 9th of May Prague is taken and the War is over. Germany and the axis are defeated.
War on other fronts 1940-1945
When Tripact attacked Komintern in 1940, Italians begun offensive agaist Egybt hoping to take over Suez and cut Komiterns fleet access to Mediterranean. The plan was unrealistic and the attack is soon defeated. In the counter offensive, Italians are pushed back into Libya and most of the 200 000 men strong army is destroyed. After the failure of Italians, Germany decided to send help to their ally and with Erwin Rommel, Afrikakorps arrives to Libya. When operation Barbarossa begins, Germany attacks in Africa and soon retakes captured Libyan lands. British sends help to Komintern and despite cultural, political and other differences, these two allies by circumstances fight together rebelling the superior German troops. After the second battle of El Alamein, Rommels army is forced to retreat into deep Libya. Komitern gives UK and arriving US troops the responsibility of the African front and sends most of its troops into the mainland.
In Asia, Japan tried to make several failed attacks against Quanghi but managed to occupy Sumatra in late 1942. After Italy's defeat in 1943, Komintern send the main parts of Red Fleet back to Asia with additional troops. In February 1945 Komintern launched assault to Sumatra and managed to defeat the Japanese defence in June 1945. After that Komitern didn't actively took part of the fighting's in the Pacific .